On May 21, 1971, Sue, 27, and Claude Shelton, 37, came home from a small get together with their friends. They put their 3 children into bed, letting them know that they were going to drive to a nearby truck stop for a late-night bite to eat. At around 2:00 AM they left their home at Gerry's Trailer Park on 18th Street in Corbin, Ky, and headed to King's Truck Stop. This was around 5 miles from their home, so it shouldn't have taken them long to drive there and back, but they've never returned.
The Shelton's daughter Sheila remembers her father asking her mother if she was 'going to go with him or stay home'. That was the last time she heard their voices. They walked out of the house, took $600 that they had stored in a jar, shut the door behind them, and never came back.
The employees of King's Truck Stop said they never saw Sue, Claude, or their vehicle (a white 1967 Ford Galaxie) on the night they went missing. For them to leave behind their 3 children, something bad had to have happened.
Family and friends were interviewed, all of which said that Martha and Claude would have never left their children unattended, so the entire trip was completely out of character for the couple.
The area around their home, the truck stop, as well as some wooded areas were searched after their disappearance but nothing was ever found.
The latest update regarding this case that I could find was an article from May 22, 2009. A DNA test was being conducted on the body of a woman that was found in Oregon just 2 days after Sue and Claude went missing.
It was not a match.
Now, the worst part about an older case, (aside from the fact that news articles and information is incredibly hard to find) is that it's difficult to know exactly what the terrain and roads were like at the time that it happened. So I'm going to post the current google maps image that shows the different roads the Shelton's could have taken on the night of their disappearance. It seems that the trailer park and the truck stop are both gone now, so I'm working off the information of 18th street, and the fact that King's was listed to be at Exit 29 in Corbin.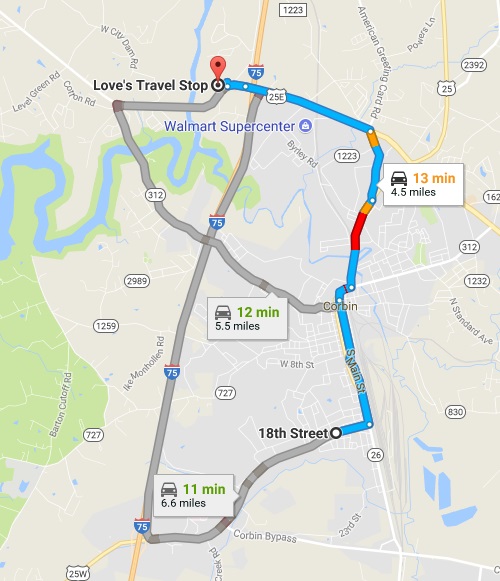 One thing you'll notice is there are many sources of water. The Laurel River Lake (part of it can be seen at the top left corner) was actually being built at the time, it was under construction from 1964 until 1974.
Could they have been lured to stop and then assaulted? Why did they take $600 with them? Maybe someone got them to stop and then afterward robbed, murdered, and possibly drove their car into the Laurel River Lake? It's hard to make a car go missing… unless it's under a few hundred feet of water.
If you know anything that could help bring the family of Claude and Sue Shelton closure, please contact the Kentucky State Police at 606-878-6622.